Ursprüngliche Eleganz
RR&B STEAKHOUSE
Unser preisgekröntes und mit einem Michelin-Teller ausgezeichnetes Restaurant und Bar gilt als eines der angesagtesten Steakhäuser in Thailand und bietet eine Kombination aus klassischem Steakhaus und modernem europäischem Flair. Wir servieren das beste Prime Beef, frische Meeresfrüchte, einzigartige Vorspeisen und eine umfangreiche Weinkarte, alles mit einem atemberaubenden Blick über die Skyline von Bangkok. Hier finden Sie keinen spießigen Service, sondern ein tadelloses, modernes Speiseerlebnis für wichtige Geschäftsdeals, Familienessen oder romantische Abende. Die angrenzende Bar sorgt mit einer Auswahl von handgemachten Cocktails, feinen Whiskys, einem Zigarrenraum und Balkon zum Rauchen für die richtige Stimmung vor und nach dem Essen.
Standort: 31. Etage
E-MAIL: [email protected]
LINE Chat: https://page.line.me/vci9073o?openQrModal=true
Abendessen
18:00 - 23:00 hrs (Tue-Sun)
Bar
17:30 - 23:00 hrs (Tue-Sun)
RR&B STEAKHOUSE Markieren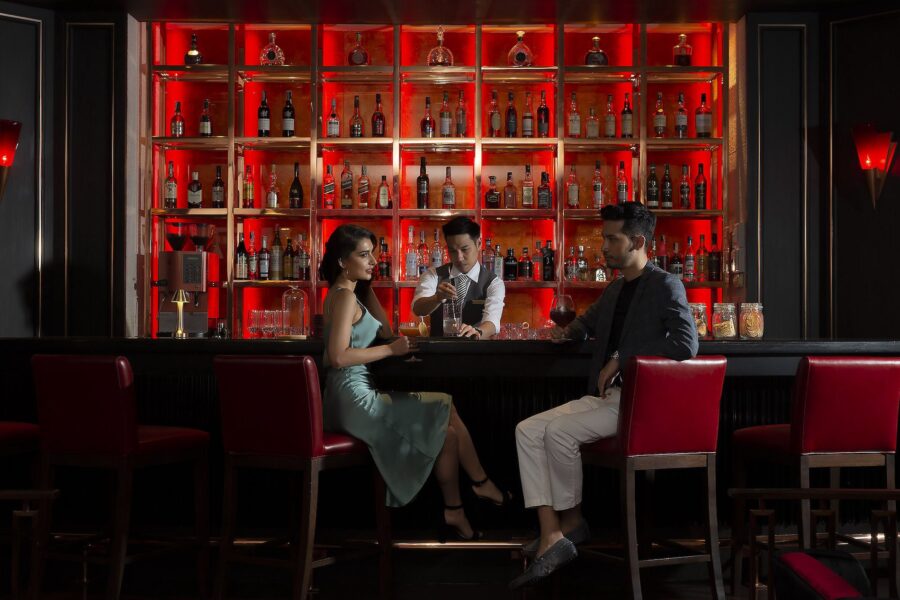 THE BAR
TUESDAY – SUNDAY 17.30hrs – 23.00hrs
The perfect place to start a dinner in the RR&B, The Bar serves a truly international selection of drinks in a thoroughly modern and comfortable setting.
The restaurant's wine cellar stocks a huge selection of outstanding wines, while the views of Bangkok from the top floor venue are spectacular.
award WinningBEST restaurants IN THAILAND

John Y
Leicester, UK
"Excellent Food"
We came with friends from Hong Kong last night. They were quite impressed by the delicious food and nice presentation. Staffs were polite and attentive. Highly recommended the "Peking Duck" and "Deep fried Crispy Ham and Prawns w/ Orange Sauce". Will come again and try some other dishes.
OneyOransuksun
August 30, 2019
"Birthday Celebration"
Had my birthday celebration here in late Dec 2019. As usual very delicious food and excellent service. Highly recommend the "Deepfried crispy ham and prawns w/ orange sauce". We really enjoy the meal and will definitely come back for more.
Our dining experiences at The Landmark Bangkok are truly exceptional, offering a delectable journey for all the senses. As you step into our stunning hotel, you'll find yourself immersed in a world of culinary delight. Indulge in the finest gastronomic experiences, with our diverse array of restaurants and bars that cater to every taste and preference.
One of our premier dining experiences is our renowned Rib Room & Bar Steakhouse, the best steakhouse in Bangkok. Located on the 31st floor, this Michelin Guide rated restaurant has consistently been ranked as one of the most sought-after steakhouses in Thailand. Prepare to be captivated by the contemporary European panache that infuses every dish. Our expert chefs utilize the finest cuts of prime beef and fresh seafood to create culinary masterpieces that will leave you craving for more. The breathtaking views of the Bangkok skyline provide the perfect backdrop for a memorable dining experience.
No stuffy service here – our aim is to provide impeccable contemporary fine dining that meets the highest standards. Whether you're sealing an important business deal, enjoying a family-style dinner, or seeking a romantic interlude, our Rib Room & Bar Steakhouse offers the perfect ambiance. Before or after your meal, venture into our adjoining bar, where craft cocktails and fine whiskeys await. Indulge in a selection of signature cocktails, unwind in our cozy cigar room, or savour your drink on our outdoor smoking balcony, all while enjoying panoramic views of the city.
But our dining experiences don't stop at our award-winning steakhouse.
As a guest at The Landmark Bangkok, dining becomes an experience in itself. With a total of six restaurants and bars to choose from, which include the Rib Room & Bar Steakhouse, you'll never run out of options to satisfy your culinary cravings. Whether you're indulging in the succulent cuts of prime beef in RR&B or exploring the innovative flavours at our Chinese restaurant in Siu Sian, each dining experience promises to be a journey of taste and delight.
Our commitment to providing the best dining experiences goes beyond just the food. We understand the importance of ambiance and service in creating a truly memorable meal. That's why our restaurants and bars are meticulously designed to provide a contemporary and inviting setting, where you can relax and savour every bite. Our team of dedicated staff is always on hand to ensure your dining experience exceeds your expectations.
Our exceptional dining options go hand in hand with accommodation experience where we offer a range of amenities to enhance the guest experience. From complimentary Wi-Fi to 24-hour room service, we strive to provide our guests with the utmost comfort and convenience.
When it comes to dining in Bangkok, The Landmark Bangkok sets the benchmark. Our Rib Room & Bar Steakhouse stands as a testament to our commitment to culinary excellence.
Come and dine at RR&B and experience Bangkok and dining from the 31st floor overlooking the city that never sleeps.